(Jerusalem) Seudat Shlishit with former MK, Rabbi Dov Lipman to welcome our New Olim
*See complete list of all Olim Shabbaton events at bottom.
Join us for Seudat Shlishit (3rd meal) in honor of all the New Olim!  With guest speaker, former MK, Rabbi Dov Lipman. All are welcome to join.
Shabbat Day, September 21, 2019
WHERE: Shir Hadash Shul, #45 Emek Refaim, German Colony, Jerusalem
TIME: 6:10pm Mincha   6:30pm Seudat Shlishit
RSVP: None needed - just show up!
Rabbi Dov Lipman was elected to the 19th Knesset in January 2013, making him the first American born MK in nearly 30 years. He  rose to national and international prominence for his role in combating religious extremism in Bet Shemesh.  The author of seven books about Judaism and Israel, Rabbi Lipman holds rabbinic ordination from Ner Israel Rabbinical College and a Masters in Education from Johns Hopkins University. He moved to Israel from Silver Spring, MD in July 2004 with his wife, Dena, and four children.  Since 2015, former MK Lipman has focused on Israel Advocacy both in Israel and abroad.  He currently serves as Senior Manager - Community Outreach for Honest Reporting, as a political correspondent for the Jewish News Syndicate (JNS.ORG), as a political commentator for ILTV and I24news news, and as a columnist for the Jerusalem Post and Times of Israel. 
BE A 360nis L'CHAIM SPONSOR email Nechama at events@jicny.com
THANK YOU TO OUR MEAL SPONSORS
1. JIC Israel - To Provide a Jewish Home Away from Home for People new Israel
2. Shir Hadash on Emek - Anglo-community synagogue founded by Olim and run by Olim
3. The Jerusalem Olim Center, is the headquarters that connects every new immigrant to the resources they need in order to ensure their ultimate Aliya success.
---------------------------------------------------------------------------------------
Additional Olim events this Shabbat include:
(Click on each event for details)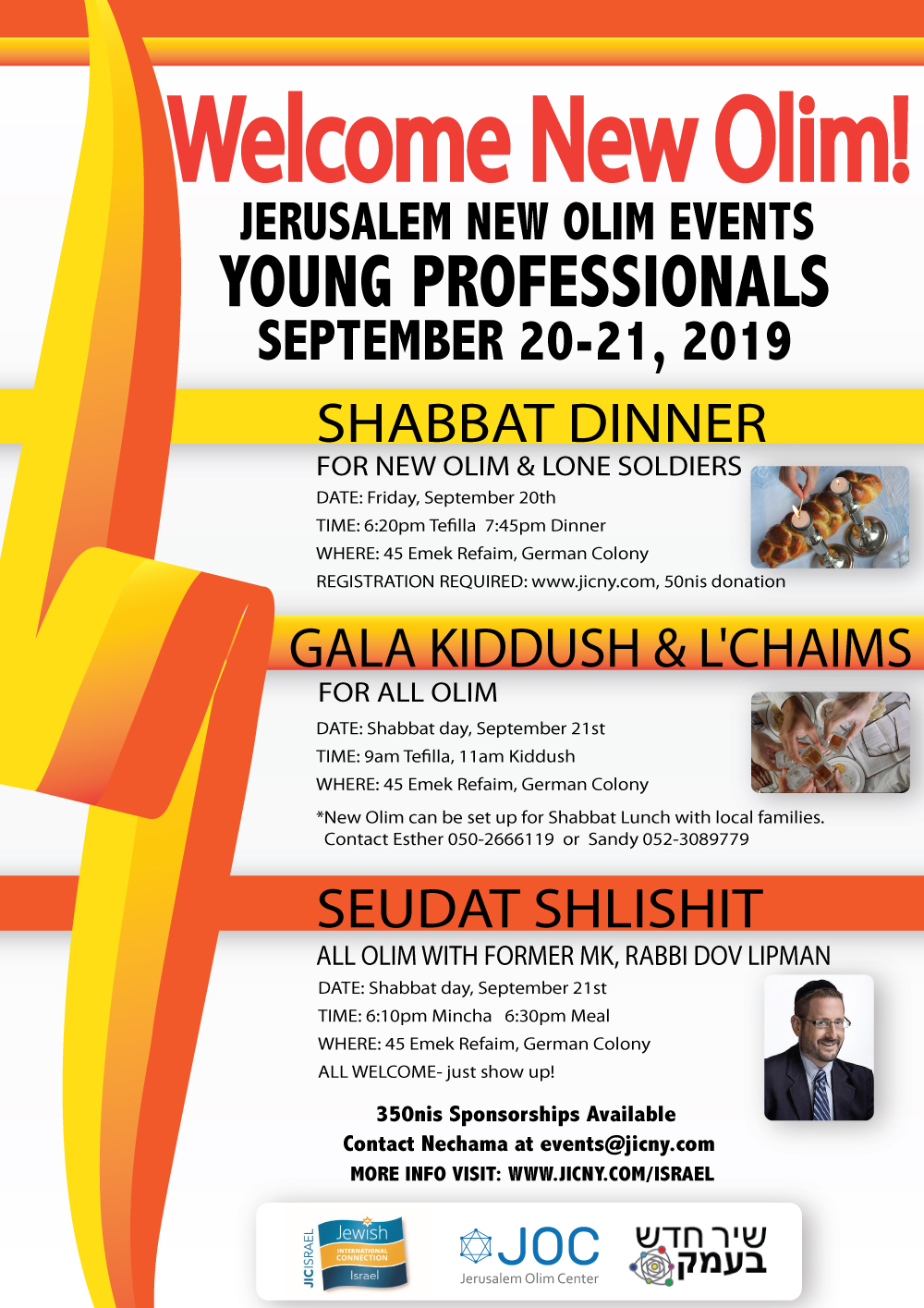 Start Date:
Sat, 09/21/2019 - 6:20pm
End Date:
Sat, 09/21/2019 - 8:00pm
Where:
Shir Hadash on Emek, 45 Emek Refaim
In the Achim Chasid Building
German Colony, Jerusalem
Online price in ₪ ILS Available via Paypal Only
---
Don't Miss Out on Exclusive JICNY Events!
To sign up for our e-mail updates