(Jerusalem) Shabbat Dinner for New Olim & Lone Soldiers
.
*See complete list of all Olim Shabbaton events at bottom.
Join us for a welcoming Jerusalem Shabbat Dinner for New Olim ages 20s & 30s who have been in Israel one year or less - and Lone Soldiers too!
DATE  Friday, September 20th, 2019
TIME/ LOCATION: 
            6:20pm Tefilla - Shir Hadash on Emek, #45 Emek Refaim, German Colony
           7:15pm Group can meet at Shir Hadash and walk to the dinner together
           7:45pm Dinner – at a private home
COST:
  50nis suggested donation
(With your Paypal Account!)
             *All JICNY events are supported by contributions.
TO RSVP
send email to

events@jicny.com

and write "New Olim dinner" in the subject line. Let us know if you are a New Olim 6 months or less or a Lone Soldier
Thank you to our Dinner Sponsors:
1. JIC Israel - To Provide a Jewish Home Away from Home for People new Israel
2. Shir Hadash on Emek -  Anglo-community synagogue founded by Olim and run by Olim
3. The Jerusalem Olim Center, is the headquarters that connects every new immigrant to the resources they need in order to ensure their ultimate Aliya success.
4.  IYIM, The International Young Israel Movement (Israel division)
                                            -----------------------------------------------------------------------------------------
Additional Olim events this Shabbat include:
(Click on each event for details)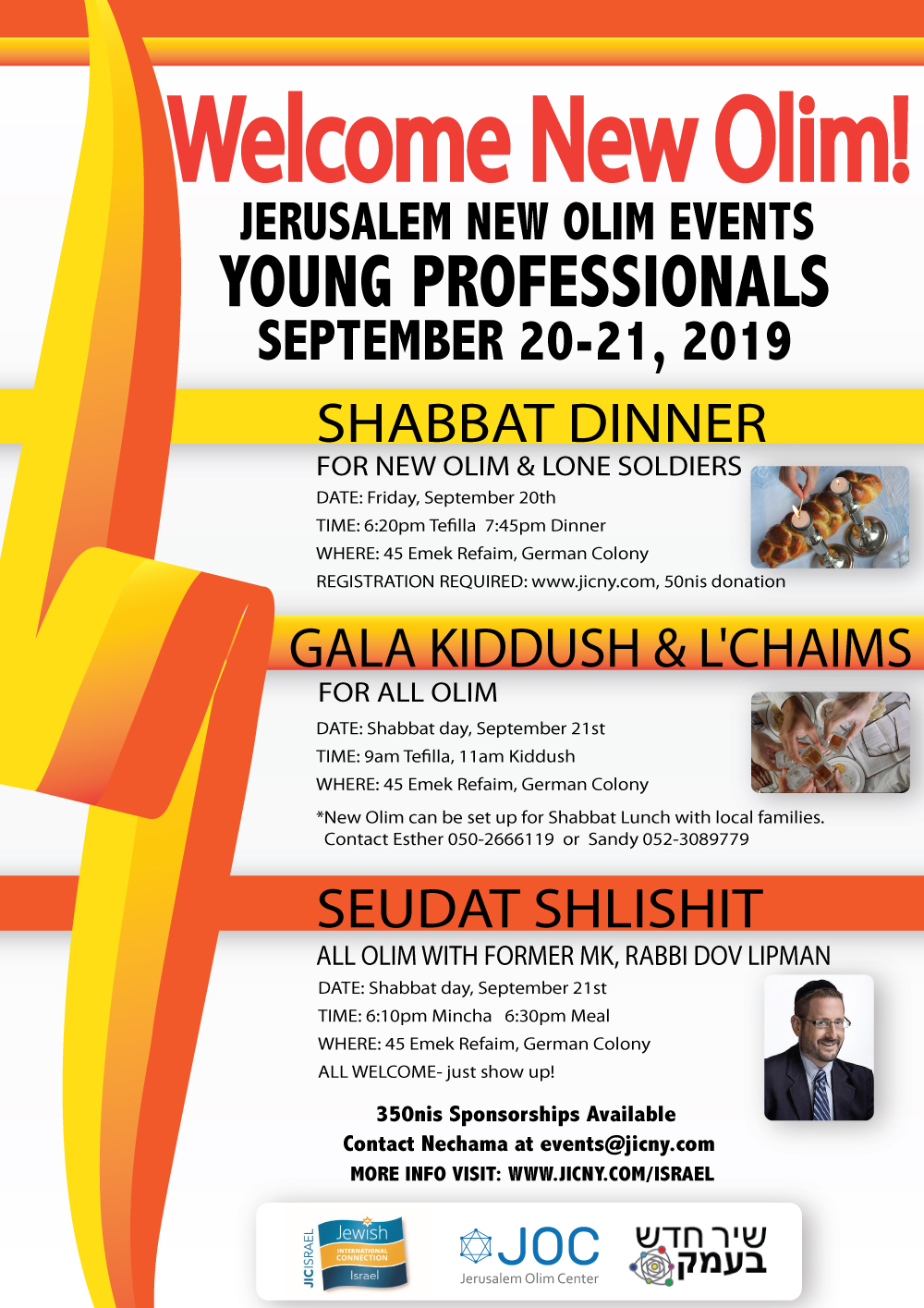 Start Date:
Fri, 09/20/2019 - 6:20pm
End Date:
Fri, 09/20/2019 - 11:55pm
Where:
Shir Hadash on Emek, 45 Emek Refaim
In the Achim Chasid Building
German Colony, Jerusalem
Fees:
Surprise us with a donation: $ 1.00
50nis: $ 50.00
Online price in ₪ ILS Available via Paypal Only
---
Don't Miss Out on Exclusive JICNY Events!
To sign up for our e-mail updates